On behalf of the staff at Oakdale Animal Hospital, we are honored to pay respect to our beloved animal friends who have passed. We also welcome you to create a lasting tribute for your beloved pet or animal friend on our website's Pet Memorial page. Click here to submit your pet memorial online.
---
Aspen - August 24th 2018 - May 23rd 2019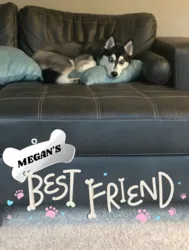 Aspen was so curious, energetic, and full of life. She loved her family and and watching all the neighbors. Aspen enjoyed chewing on her bones, playing tug of war, chasing our cats, and going for walks. Aspen knew she was loved so much and our hearts ache for her. Aspen was taken was taken from us too soon but can run in Heaven like she loved to do ❤️ Love and miss you every day girl.
Your family always Mom, Dad, Macy girl, Chloe, Ashlen
---
Peach - May 2, 1999 - August 15, 2008
In loving memory of our best friend, Peach, who we love so very much. She will be in our hearts forever.
Peach was such a loving friend and companion who had such a rambunctious and playful heart. Her favorite pass times include chasing our cat Freckles around the house, cuddling on the couch and going for walks at the doggy park. Everyone she met instantly fell in love with her. She will be always remembered in our hearts and dreams. We miss you so much! - Love, Bob, Olivia and Kids
---
Aspen - August 24th 2018 - May 23rd 2019