Like humans, animals can contract many different pathogens, including bacteria, viruses, and parasites. It's difficult to diagnose an animal based on symptoms alone and many diseases have overlapping symptoms. That's where pet laboratory testing comes in. Oakdale Animal Hospital in Brandon, MS, can perform advanced testing to determine what is affecting your pet. Our animal hospital is equipped for pet lab work and one of our veterinarians will be happy to assist you.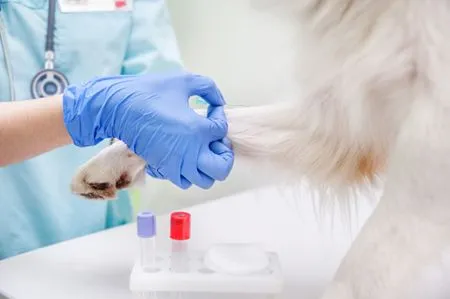 Pet Lab Exams
Our veterinarians will examine your pet, do a visual look over, and take vital signs (such as temperature and heartbeat). The veterinarian can recommend additional tests, including lab tests if they are needed. There are many different types of veterinary tests we can order for your pet.
Urinalysis: With a urine sample, we can look for many different things and can check for urinary tract diseases. A urinalysis can also reveal problems outside of the urinary tract.
Complete Blood Count: Often called CBC for short, a complete blood count can look at the number and type of blood cells in a pet's blood sample. We can detect infections, allergies, chronic diseases, and more.
Blood chemistry profile: With a blood sample, we can also look at sugar, electrolytes, and salt levels, among other things. If the levels are too high or too low, we will be able to detect health conditions that are affecting your pet.
Fecal testing: By looking at your pet's fecal matter, we can check for parasites and digestive tract issues.
Thyroid testing: A faulty thyroid can lead to several serious medical issues. We can conduct lab tests to check if the thyroid glands are functioning properly.
Ear cytology: Many dogs and cats, among other pets, have problems with their ears. Through pet lab exams, we can take a peek at their ears, and take samples to examine in the lab.
Needle biopsy: Getting poked with a needle is unpleasant but often necessary. We can withdraw blood or fluids via a needle then use the samples for pet laboratory testing to detect a wide range of health issues.
Skin samples: By acquiring samples of skin tissue, hairs, and more, we can conduct pet lab work to uncover certain problems.
Pet Lab Testing in Brandon, MS
Pet laboratory testing can be quite comprehensive. This is only a quick look at some of the many pet lab testing options that we offer at Oakdale Animal Hospital. If you live in Brandon, Flowood, or the surrounding area and you need lab testing done for your furry friend, call us today at (601) 829-9949.