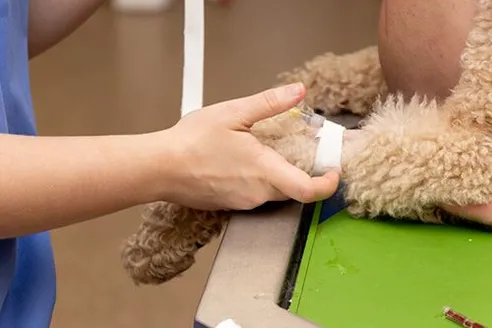 When a catastrophe with your pet happens, you don't want to wait for a veterinary appointment. You need emergency vet assistance, and fast. At Oakdale Animal Hospital in the Jackson metro area in Mississippi, we understand your pet care needs. Our team is here to help your pet in any emergency health situation.
Emergency vet care is available during business hours. Call or stop in for assistance. After hours, we work with a fully staffed emergency animal hospital and an emergency vet care referral service. They can be reached at (601) 939-8999.
Blood Transfusions
If your pet needs a blood transfusion, we do so with blood provided by a blood bank. If required, we have employee pets that are also able to donate blood. Blood transfusions may be necessary for your pet after an illness or injury.
Equipped to Help
Your pet might need a variety of procedures done to save its life. We're equipped to perform:
Endoscopies
Emergency surgery
IV treatments
Poison mitigation
Ultrasounds
Blood work
We can help if your pet ingests a toxic substance or suffers a fall, broken bones, and other ailments.
Some signs of pet emergencies include:
Blood in the urine or stool
Fainting
Seizures
Inability to balance
Sudden, unexplained aggression
Trauma from a fight, fall, or accident
Excessive pacing
Excessive thirst
Suspicion that your pet ingested toxic substances
There are many other situations that require emergency vet care as well.
What to Do
It can be frightening when your four-legged companion is experiencing an emergency. Try to remain calm. The calmer you can be, the more it will help both of you. Pets can lash out when they are in extreme pain. It's essential to try and protect yourself from bites.
For dogs, approach them slowly while saying their name. If they show aggression, get some help. If they seem docile, do your best to lift them get them onto a flat surface where they can be carried to a vehicle for transport. Try to keep their neck and spine supported and straight while doing so.
For dogs, you'll want to place something over their head to avoid bites and attempt to get them safely into a pet carrier without moving their neck or spine, if possible.
Call our facility and inform the person you speak with what's happening. We will give you further instructions.
Contact Oakdale Animal Hospital for Emergency Pet Care
We know it's scary when your pet needs emergency care, and we are here to help. At Oakdale Animal Hospital in the Jackson metro area in Mississippi, we provide emergency pet care. Contact us today for assistance.